Guaranteed Mosquito Control For Oklahoma City Home & Business Owners
Pest infestations come in many forms, but one of the most devastating is a mosquito infestation. Because the Oklahoma City area stays warm enough for much of the year, mosquitoes are a significant concern for both residential and commercial property owners.
In addition to being annoying, mosquitoes are potentially dangerous due to feeding on people's blood and potentially transmitting disease as they do. As such, the most important thing you can do with a mosquito infestation is trust in professional mosquito control services.
Diseases Mosquitoes Transmit In Oklahoma City
It's not just that mosquitoes feed on blood that makes them dangerous; it's actually the potential for disease transmission that's a problem. Some common illnesses transmitted by mosquitoes in the United States are West Nile virus, Eastern equine encephalitis, and dengue fever.
Even worse, these illnesses don't affect people in the same way, which makes it very difficult to have standardized treatment. However, paying close attention and embracing the use of mosquito control services can much better manage the risk to your health and safety.
Our Mosquito Control Process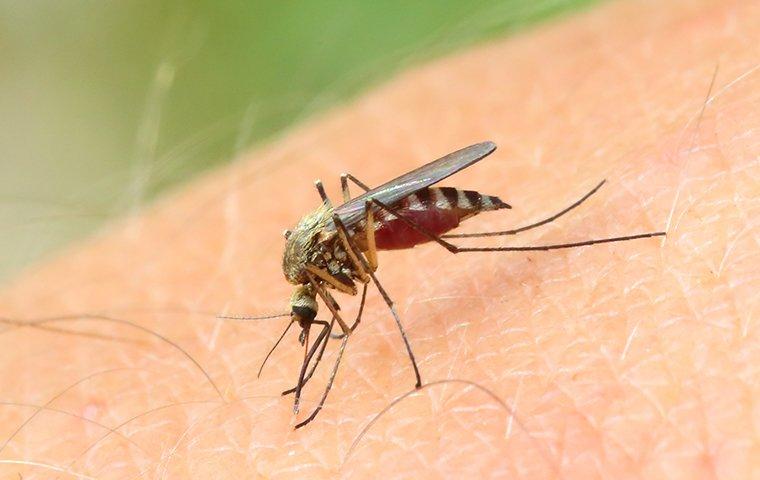 The secret to effective mosquito control is to deliver effective and prompt treatment that eliminates the problem at its source. That's why we always begin with a comprehensive inspection of the premises. During the inspection, we inspect for conducive conditions such as standing water, overgrown vegetation, and more.
After the inspection is finished, we'll tackle your treatment. During treatment, we use a backpack fogger to lay a liquid residual application across your property. For large sources of standing water, we'll treat them with insect growth regulators (IGR). As an additional service, we will bring extra equipment to cut back any overgrown vegetation to keep future infestations at bay.
Our team understands that ongoing mosquito control may not be necessary, which is why we also offer one-time services for special events, so your special day is protected.
Protect Yourself With These Mosquito Prevention Tips
Even the best mosquito control can't keep you protected 24/7, which is why it's important to practice mosquito prevention when possible. Some tips we have are:
Invest in lawn care

Eliminate standing water

Replace broken screens and vent covers

Keep the gutters maintained
Don't let a mosquito infestation keep you down any longer than necessary. Contact the pest management professionals at Pestmaster® Services today for mosquito control that delivers guaranteed results!
Learn more about our quality home pest control and commercial pest control solutions.